Meet the Founders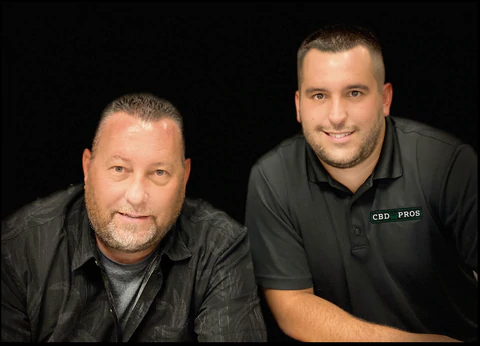 We welcome your patronage and hope your experience with us is one that will keep you coming back and referring your friends and families to us for all of your CBD product needs.
-John Fisher, Founder and CEO
John Fisher (Founder & CEO) and Cody Fisher (Co-Founder & COO) are the father and son entrepreneurial team behind CBD Pros USA. When Cody was young, John brought him along on many business trips, especially during his early days as a successful franchisee in the automotive products industry. Cody learned at a young age how to maneuver through the intricacies of business and what it takes to be a leader in very competitive markets.
In 2018, John and Cody saw an and entry point in the CBD industry and pounced on it. Opening several stores within months of the Farm Bill (December 22, 2018) being signed into law, their business acumen quickly earned them a strong position in the market.
Instead of following other business models strictly dedicated to a pricing model, they decided that the focus of their CBD locations would be on educating the public, and raising the industry standards for quality control, third-party-lab-testing, and fair pricing on great products. Consequently, their staff is extremely knowledgeable about CBD strains and the potential health benefits that CBD and other cannabinoids may have.
John's and Cody's commitment to running a transparent, ethical business has moved them to the forefront of the industry and is keeping them leaders in a fast-moving, ever-changing environment.